HHI Corporation presents the Mobile Triage Unit: a member of our Bio-Containment Systems. The MTU was created in response to the COVID-19 pandemic and provides a secure, 100% self-sustainable area to house overflow patients during times of crisis. This device is a prefabricated, dynamic unit which can be assembled inside or outside large facilities. All units include electrical systems powered by diesel generators and shore connections, ventilation with HEPA filters and potable water/waste connections. Additional design features and optional configurations are available upon inquiry.
Features
4 patient wings with 11 beds total
Nurses' station
Directional air flow with 18 air exchanges per hour
Easily transportable
HEPA filters
Potable water/waste connections
For more information or to contact us with inquires, call 385-333-4405 or email fabsales@hhicorp.com
What is the purpose of the MTU?
The MTU is designed to combat COVID-19 and other infectious diseases and provide emergency response during disasters such as hurricanes and earthquakes. It can add additional hospital beds for large events. The MTU can be set up in remote or rural areas with where there is limited access to healthcare facilities. The MTU can be used to isolate infectious diseases from the hospital and keep ICU beds free for patients in critical condition and promote the continuation of elective procedures free from possible infection.
How functional is the MTU?
The MTU is easy to use, clean, and deploy in various areas or locations. It is fully furnished and self-sustaining. It can function on its own without external input (i.e. power or water) for 7 days at maximum capacity. In addition, it is storable and reusable.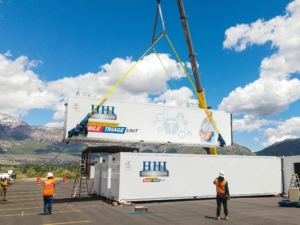 How can the MTU be used?
The MTU can be used for a variety of situations. When natural disasters such as hurricanes or earthquakes hit and local infrastructure has been damaged, the MTU can stabilize healthcare needs quickly and efficiently. Designed for Rocky Mountain Snow and Seismic loads, and able to withstand wind speeds over 185 mph, the MTU is functional in the most extreme conditions. The MTU is also equipped with an air exchange system to combat the spread of infectious diseases. This allows each individual patient portal to house and filter a different disease/illness at any given time without the concern of cross-contamination.
What is the MTU made out of?
The MTU is made from prefabricated units that have been structurally enhanced and repurposed for mobile healthcare use.  The structure has been insulated and all surfaces covered with hospital grade finishes, new flooring with welded seams for cleaning and disinfection, energy efficient LED lighting and HVAC equipment, and is code compliant.
How much wind speed can the MTU withstand?
The MTU was structurally designed to withstand a 185 mph wind load.
Optional Features
– Cameras
– Medical Oxygen
– Medical Vacuum Package